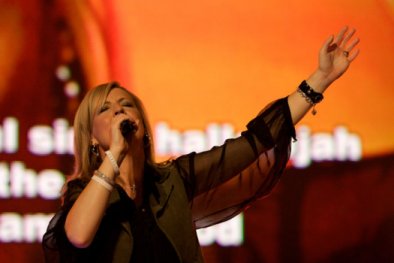 DARLENE ZSCHECH

Inspired Australian singer, songwriter, worship leader, author, passionate social justice advocate. Those and more describe Darlene.

She has been the worship leader of famed Hillsong in Sydney, (Australia's largest church) for a long time. She has had 70 or more songs published, several best-selling solo and Hillsong albums,been nominated for numerous Dove awards and helped found Hope Rwanda.

Her song, 'Shout to the Lord,' which she wrote, is sung by an estimated 25 million people across the world every week!

In this interview done 'backstage' at a Joyce Meyer Conference where she was leading worship at four 18,000 people gatherings in HP Pavilion Arena, San Jose, CA, Darlene greatly inspired us as she talked
about singing as a child, becoming a follower of Jesus and later a worship leader and her passion for social justice that began in Rwanda.

LISTEN to our DARLENE ZSCHECH Interview and more!
Get a CD of the full 1-hour SPECIAL that benefits ONE HEART FOR KIDS
Hear CELEBRATE RADIO's 1700 songs LIVE 24/7
Hear our SHINE Radio

Darlene Zschech web site
Her Hope Rwanda project

See our VIDEOS
Be part of our ONE HEART FOR KIDS
Get our EXCLUSIVE CDs

MORE OF OUR INTERVIEWS!

Jaci Velasquez
Jars of Clay
Delirious?
Compassion International CEO Wess Stafford
Rick Recht
Saddleback's Kay Warren
Craig Taubman
African Childrens Choir
Anne Graham Lotz
Moshav
Friends and Family of Columbine
All our REACHING UP music/interview PODCASTS


Get Darlene Zschech Music here click below