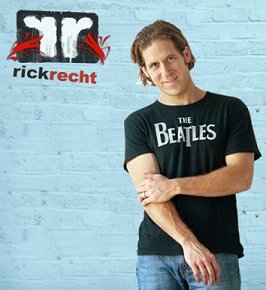 RICK RECHT

Rick Recht is one of the most popular and most touring Jewish contemporary rock and pop stars in the country.

His 'cause' and passion is to 'tear down the walls' that exist between people and is also the title of one of his most popular songs.

We discuss ending barriers between people and spirituality from a Jewish perspective.



LISTEN to our RICK RECHT Interview and more!
Get a CD of the full 1-hour SPECIAL that benefits ONE HEART FOR KIDS
Hear CELEBRATE RADIO's 1700 songs LIVE 24/7
Hear our SHINE Radio

See our VIDEOS
Be part of our ONE HEART FOR KIDS
Get our EXCLUSIVE CDs

MORE OF OUR INTERVIEWS!

Jaci Velasquez
Jars of Clay
Delirious?
Newsboys
Darlene Zschech (Hillsong)
Compassion International CEO Wess Stafford
Rick Recht
Saddleback's Kay Warren
Craig Taubman
African Childrens Choir
Anne Graham Lotz
Moshav
Friends and Family of Columbine
All our REACHING UP music/interview PODCASTS


Get Rich Recht Music here click below